Beginning a new year is most certainly a great reason to celebrate! We like to stay in on New Year's Eve as it can be a crazy night for a lot of folks. Typically, we host a small dinner party with neighbors. This way, it is easy and safe for our guests to walk home after an evening of food and libations! Today, I am sharing a Silver and White Table Setting for New Year's Day.
During our recent trip home to Dallas for Thanksgiving, my mom wanted to pre-plan her table for their own New Year's Eve dinner party.  My parents entertain even more than we do and have inspired my desire to host guests often.  They have been very excited about the premiere of my blog so my mother was especially eager to have some fun designing her table setting for New Year's Eve.  It has been so nice to have their support.
This post contains affiliate links to keep this blog up and running at no cost to you. 
Silver and White Table Setting
The Placesettings
I loved working with their black custom-made table because of the drama it offered for a backdrop.  We started with the silver square placemats and laid them on the diagonal.  This actually gives you more room for your flatware and glassware!  They purchased these placements on clearance after Christmas last year.  Always shop those great post-season sales for great deals.
Next, we used her simple white dinner plates and napkins and the clear glass bowls she has had for as long as I remember. My mother (Joy) is serving a soup for the first course (my favorite pureed onion soup she makes!) so adding the bowls topped it all off nicely.
It is interesting to mention here that my mom has been legally blind for most of my life, so the fact that she is an amazing cook and hostess really blows most people away!  She has always been an inspiration to me but she also inspires everyone that knows her.  I am so blessed that she is my mother!!
Being a sentimental gal, I adore using the antique pieces that have been passed down through my family. Joy has PLENTY of contemporary flatware and serving pieces, but I opted to use the family silver and butter plates that were my great grandmothers. Mixing the old with the new adds such character to any table setting!
The Centerpiece
For the centerpiece, I started with their custom made, acrylic candlesticks. Hashtag…goals!! They are simply spectacular! Because the candles were shaped like a ball, I decided to continue the theme. When I think about New Year's Eve, I always think about watching the crystal ball in New York city fall on the countdown to the new year, so we ran with that idea! Adding the silver balls (from ZGallerie) and the silver orb ornaments (re-purposed from Joy's Christmas wreaths) did the trick. She already had the round rose bowls for the simple floral arrangements so they worked great.
As I have mentioned in previous posts of other table settings, I recommend using an interesting combination of glassware. Here, we used their simple, elegant wine and champagne glasses. For a touch of glam and contrast, we added the cut crystal water goblets for a bit of flair.  After all…New Year's Eve is such a special night and only happens once a year!
Here is a shot of their buffet. A little design secret…they put two of the same consoles side by side to create the drama of this huge piece. Pretty nifty!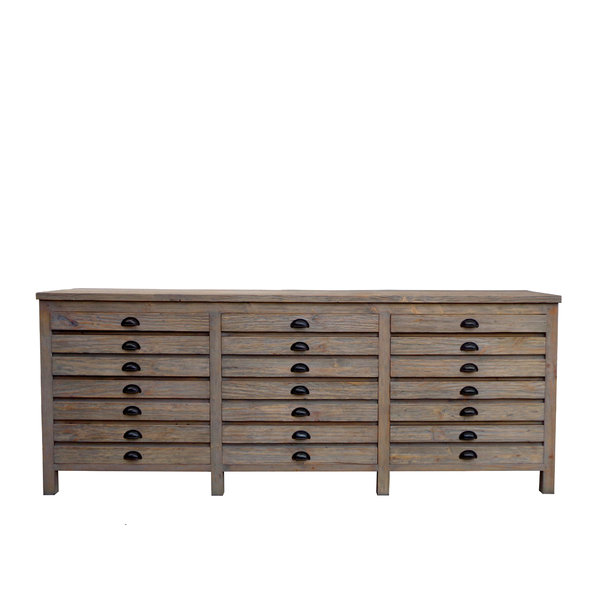 New Year's Eve is such a festive time of the year. It is the time of year to reflect on milestones and events of the past year and consider the plans, goals, and dreams of the new year. I hope that this coming year holds the very best for you and your family! Thank you for stopping by to see our Silver and White Table Setting for our celebration and for joining me in these first few months of my blog.
Please consider subscribing to my blog so you can receive instant notification of my new posts!
Happy New Year! Here's to a great 2018!!
Cheers,
Holliday
P.S. You might enjoy stopping by my recent Christmas Home Tour posts linked here…
Christmas Home Tour 2017 – Winter Glam Dining Room
Christmas Home Tour 2017 – Living Room
Christmas Home Tour 2017 – Basement Living Area
Christmas Home Tour 2017 – Christmas Trees
Christmas Home Tour 2017 – Kitchen
For more inspiration, you can go to my Pinterest page for thousands of pins of Christmas Decor, Christmas Trees, Christmas Table Settings and ideas for New Year's Eve.
This post contains some affiliate links to help keep this blog up and running.  I only include affiliate links that are pertinent to my topics and designs as well as links that could be helpful for our readers.  Click here to read my Disclosures.