Sometimes as I wander through different areas of my home, my designer mind starts spinning with ways to change or update different parts of the room.  It is a constant creativity battle of sorts.  Sitting in my living room this weekend, I decided that the grey bench in front of my fireplace needed some love.  Then, the madness began!  Today, we are talking about Styling a Bench 6 Ways – Part One.
I purchased this bench at a local boutique store, but I identified a few other well-priced options below, in case you are looking for one similar.  Just click on the images for details.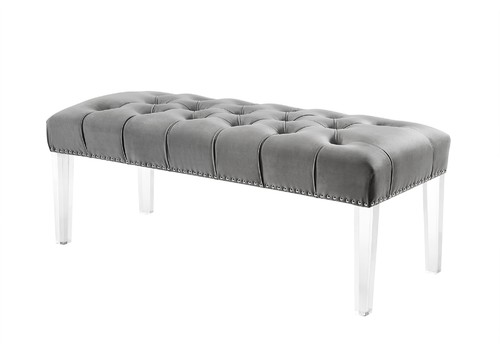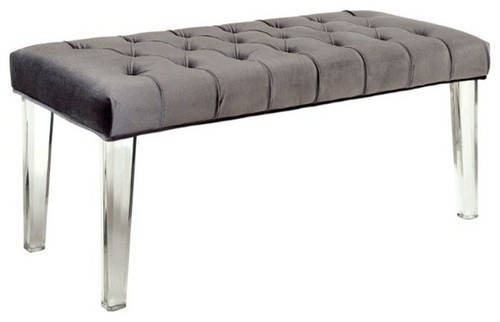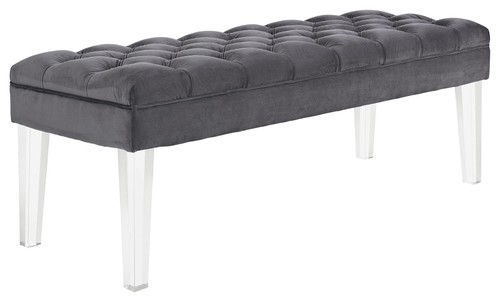 Once I jumped into action gathering things from other spots in my home, the process began.  I had so many different ideas that I decided to create several options and then decide which one we liked best.  I enjoy getting the family to weigh in on occasion.  AND, I am hoping you can help with the decision by giving me your comments at the end of the post and vote for your favorite!  My mind raced with different design themes (six to be exact!) so I am going to share them all with you in three different posts.
Tips for Styling a Bench 6 Ways – Part One
To create these looks there is a simple formula you can follow to implement this kind of styling on your own.  These basic recommendations also work well for a coffee table, sofa table or buffet styling among other areas in your home.
Start with a solid foundation…a tray, stack of books or a platter.
Use a variety of decorative items…different shapes, textures, materials and sizes (old and new).
Accessorize with at least one item that has sentimental value…this helps tell your story and personalizes the design.
Include an organic component…flowers, greenery or anything from outdoors.
Add candles…always add candles!!
Work with an odd number of accessories…3 or 5 would be good for this application.
Eclectic Styling – Using the old and the new
For this first design, I wanted to create an eclectic look.  My home features a mix of antique and new furnishings, art and accessories.  Having designed so many homes for dozens of clients, I really enjoy being able to create my own personal look that represents me and my family, where we came from and the passions we have.  So, an eclectic look is right up my alley.
The grey hurricane candle holders (from HomeGoods) have a great, new modern feel and I wanted to accent them with something old and special. This very special antique box sat next to my grandmother's favorite chair for as long as I can remember.  I would sit in the chair next to her and that is where we would hang out.  It is one of my most cherished accessories!  She passed away peacefully at 103 years old recently, but I was one blessed gal to get to be with her for so much of my life and to have a few of her special pieces!!  Here she is in her favorite chair…so precious!
For me, it made more sense to place the vignette to the left side of the bench so us or our guests can still sit on it.  After all, it does have a purpose…to add more seating.  That will be a theme moving forward for all of the designs.
Glam Styling – Crystal and Gold
For the second run at this, I decided to incorporate a bit of glamour.  My family nickname is "Fancy" and I think we all need a little "fancy" in our lives!  To me, gold tones are very opulent.  Add that to an alabaster tray (my most favorite tray…from HomeGoods) and you have instant glam!
For texture and sparkle, I used this spectacular Waterford vase that was handed down to me by my mother.  Not only is it very sentimental to me, it is also vintage, classic and timeless. Something new…something old…and another story to tell.
You can see here how you can easily create a totally different look while following the same formula.  Every accessory I used came from somewhere else in my home.  The only thing I purchased was the fresh flowers, but you could certainly use faux flowers or greenery in any of the applications.
I have been dying to share this Mongolian Sheepskin Throw that I have used in several areas of my home.  I purchased it from Cost Plus World Market (link below).  It is a fantastic accessory to have.  My 2 four-legged babies especially love it!
Everyone's personal style is different and is constantly evolving.  I did some shopping below for other benches and accessories that could work for a variety of styles, whether casual or formal, contemporary or vintage, etc.
Pin it for later…
Thanks for stopping by today!  Part TWO of this series will be posted tomorrow, so hopefully, you will check in again.  My hope is that some of these tips will help make your decorating easier! Try a couple of different looks yourself…I promise it will be fun!
I would love to hear your comments and which design theme was your favorite! Please consider subscribing to my blog so you can receive instant notices of my new posts!
For more inspiration, you can go to my Pinterest page for thousands of pins on 90+ topics!  Here is the direct link to my board on Coffee Table Styling for similar ideas.  I hope you enjoyed the first installation of this series…Styling a Bench 6 Ways – Part One!