Good Monday morning!  Yesterday, while walking into the grocery store, these gorgeous hydrangeas almost knocked me off my feet.  I have never seen this rare version of the "antique green" hydrangeas in a grocery store…a huge find!! I was so excited to feature them in a special place in our house!
You probably cannot tell from this photo, but they are literally the size of my head!  I am not exaggerating one bit.  The pink tips are simply stunning and are so unique.  The most incredible part of this find is that I only paid $5.00 for the pair of these.  Shocking…I know!!
Styling the Hydrangeas
Because of the beautiful complexity of these flowers, it was important to make sure the arrangement was very simple.  It used a plain cylinder clear vase to hold them.  Seeing the two stems in the base of the vase adds to the drama of the arrangement.  Simple, yet elegant.
Styling the Vignette
I decided to feature the hydrangeas in my dining room, right next to my front door.  Since they are being used on my antique console with a green marble top, it was important to mix in some contemporary pieces to balance the look.  Mixing the old with the new adds so much character to any look you are trying to create.  My favorite gold trimmed alabaster tray was perfect to provide a base for the vignette and a bit of contrast to the marble. The texture, depth, and color of alabaster are so stunning!  This is the most similar I have found to the one I have…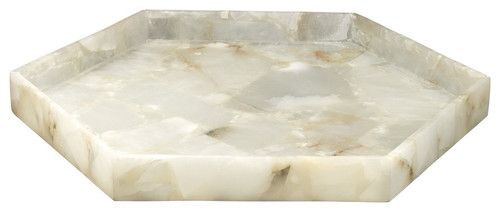 To complete this easy and elegant vignette, I added the grey hobnail cylinder candle holders. These were purchased from a local furniture store a while back and I have used them in so many ways (see more at the end of this post).  Candlelight and flowers work so perfectly together.  Also, just a quick note…I used two different kinds of candles here to show the difference between using real candle lighting versus LED faux candles.  The glow and flicker of a real candlelight cannot be duplicated!  The LED candle is close second though.  See how it actually changed the color of the glass to a warmer tone??

Here are a few more ways I have used some of the same accessories I have used in this post.
To see this post, click here.
To see this post, click here.
Thank you for stopping by today to see these stunning hydrangeas!  They were so unique that I couldn't resist putting this quick post together to share them.  Hopefully, you gleaned some ideas on how you can create a similar, easy and elegant vignette.